Dr. Altenburg Featured in Becker's ASC Review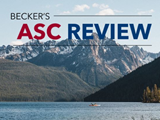 We are proud to announce that our very own Dr. Altenburg was featured in Becker's ASC Review as one of the "65 total knee replacement surgeons to know" in 2020. Becker's is one of the top media platforms in the healthcare industry and seeks to provide healthcare leaders with information and forums that they need to learn and further conversations about critical issues in American Healthcare. 
Here's the first part of the article with Dr. Altenburg's feature:
Becker's is thrilled to feature 65 total knee replacement surgeons to know in 2020.
The surgeons featured on this list have led accomplished careers and hold leadership positions at some of the top institutions across the U.S. The list was developed through nominations and internal research. Individuals do not pay and cannot pay for inclusion on this list. The list is presented in alphabetical order.
Aaron Altenburg, MD. Altenburg Joint Replacement Surgery (Pocatello, Idaho). Dr. Altenburg focuses his practice on providing orthopedic care with a sense of community. During his career, Dr. Altenburg has engaged in extensive research on total joint replacements and outcomes for total hip replacements. He is a member of the American Association of Orthopaedic Surgeons.