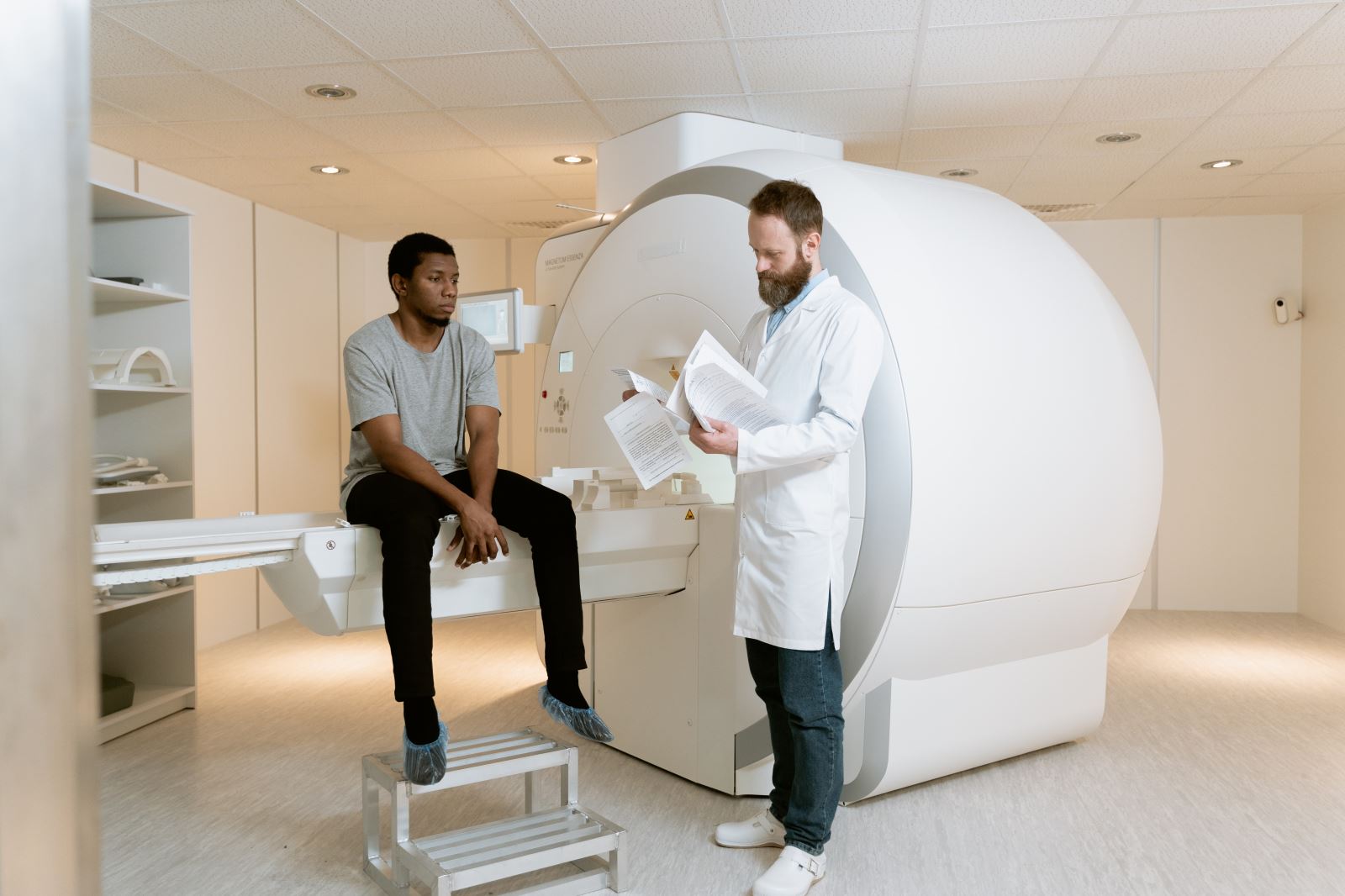 Knee replacement surgery is frequently required when the knee joint is causing pain, when the knee is worn or injured, or when it's limiting mobility.
Knee replacement surgery can have many advantages for patients, including:
Alleviating pain
Increasing mobility
Enhancing the patient's quality of life, and making daily tasks and exercise easier
According to research, four out of every five persons who have had knee replacement surgery are satisfied with their new knees. For those who are dissatisfied, the main reason is ongoing pain, which may or may not be related to the operation.
Most total knee replacement surgeries involve replacing the joint surfaces at the top of the shin (tibia) bone and the end of the thigh bone (femur).
A smooth plastic dome may be used to replace the undersurface of the kneecap (patella) as part of a total knee replacement. If possible, some surgeons prefer to preserve the natural patella, but this decision must sometimes be made during the operation.
The knee joint can be affected by several types of arthritis:
Osteoarthritis: a degenerative joint condition primarily affecting middle-aged and older adults, can destroy joint cartilage and neighboring bone in the knees. 
Rheumatoid arthritis:

 causes synovial membrane inflammation and excess synovial fluid, can cause discomfort and stiffness. 

Traumatic arthritis: arthritis caused by an injury, can destroy the cartilage in the knee.
Osteoarthritis is usually the most prevalent reason for knee replacement surgery. 
There are two kinds of knee replacement surgery:
Total knee replacement:

 this entails replacing both sides of your knee joint.

Partial (half) knee replacement:

 

this entails replacing only one side of your joint in a smaller procedure with a shorter hospital stay and recuperation period.
Mentally Preparing for Knee Replacement Surgery
Mentally preparing for surgery is very important and can even aid in your recovery. 
One aspect of mental preparation entails learning about the surgery and procedure. This will ensure you know what to expect, which will help ease any anxieties or questions you may have about the procedure. 
Knee Replacement Surgery & Recovery
For knee replacement, surgery is often performed under general and epidural anesthesia. During the surgery, the orthopedic surgeon will remove the damaged cartilage and bone before positioning the new implant, which could be composed of metal or plastic—or a combination of the two—to restore the knee's alignment and function.
The average hospital stay for knee replacement surgery is 3 to 5 days, however, recovery times can vary. When you are ready to be discharged, your hospital will provide you with instructions on how to care for your knee at home. Initially, you'll need to use a frame or crutches, and a physiotherapist will give you exercises to strengthen your knee.
Most people can stop using walking aids six weeks following surgery and begin driving six to eight weeks later. 
Full recovery might take up to two years as scar tissue heals and muscles are rebuilt through exercise. Only a small percentage of people will still be in pain after two years.
Getting Ready for The Hospital
It's important to get ready for your hospital stay ahead of your surgery. 
Consider bringing some of these items with you to the hospital:
Loose-fitting, comfortable clothing
Slip-on sneakers and a knee-length robe
Identification (driver's license or passport)
Items for dental care, deodorant, and other toiletries 
Also, bring your walker or crutches with you to the hospital. If you don't have them, the hospital will give them to you before you're discharged. 
Having the Proper Medical Insurance Ready
It's important to understand what your insurance will cover before surgery. 
The expenses of joint replacement surgery can vary greatly depending on a variety of factors, including:
The duration of the procedure
The length of time spent in the hospital
Physical therapy requirements for outpatients
The surgical kind, such as total, partial, or revision
The geographical area in which the procedure is carried out
Equipment that could be employed in an emergency situation
Pre-existing conditions that necessitate specific attention or monitoring
Whether or not a rehabilitation center is required following the procedure 
While pricing will vary, most bills will include many basic components, such as; inpatient, outpatient, and various supplementary expenditures.
Many people have questions about joint replacement and Medicare or insurance coverage. The safest approach to finding out what coverage you have is to call your Medicare or insurance agent. However, if your doctor has declared knee replacement surgery medically necessary and alternative treatments have failed to offer relief, Medicare will often cover a portion of the cost.
If you have Medicare Part A's basic coverage, you can expect to get 100% coverage for inpatient expenditures after the deductible as long as you stay within the procedure's maximum cost. Once both deductibles have been met, you can expect 100% coverage of inpatient expenditures and roughly 80% coverage of outpatient costs if you have Medicare Part A and B.
The best method to find out what will be covered for your individual surgery is to speak with your Medicare representative.
Physically Preparing for Surgery
Before your surgery, you'll want to make sure you're physically prepared to help you recover as quickly as possible. 
Let's go over some ways you can physically prepare for your knee surgery.
Get in The Proper Shape
Extra weight raises your chances of infection and other issues, that's why we encourage you to get in shape before surgery. Additionally, getting in the best physical form possible prior to surgery can reduce the risk of problems and minimize your recovery time. 
If you are overweight, aim for a sensible, realistic weight loss target that you can reach with calorie restriction and regular physical activity. 
However, we recognize that one of the reasons you may require knee replacement surgery is that your athletic abilities are now limited. Consult with your doctor to determine the most effective ways to prepare yourself physically, as they may suggest alternative strategies to help you overcome your limited athletic ability.
Getting A Dental Examination 
Significant dental issues must be treated prior to surgery. A dental operation may introduce bacteria into your bloodstream, causing an infection to spread to your prosthetic joint. 
Make an appointment with your dentist well in advance of your joint replacement operation. 
If you require dental work within two weeks of your scheduled operation, notify your surgeon immediately.
Preparing for Recovery
To help you on your road to recovery, it's important to make sure you have made preparations ahead of time so that when you get back from your surgery, everything is in place.
Preparing Your Home
Knee surgery can make it difficult to move and perform daily tasks. Consider asking a friend or loved one to stay with you while you recover, or arrange for in-home care. Having an extra pair of hands to assist you is always a good idea.
There are several ways you can prepare your home for your post-surgery recovery, here are some tips:
Check that you have easy access to your phone 
For the stairs leading to your residence, make sure you have crutches, a walker, and handrails 
To prevent falls, scatter rugs should be removed, and torn places in the carpet or tile should be patched down
Make sure everything you need is easily accessible and near where you will spend most of your time
Have a bathroom on the same floor where you'll spend most of your time
If possible, set up your bed on the first floor. Also, although you might not require a hospital bed, you should ensure your mattress is firm
Make your bed low enough so that when you sit on the edge, your feet touch the floor
Install a chair with a sturdy back in the kitchen, bedroom, bathroom, and any other locations where you will spend time. This way, you can sit while doing your everyday duties
Check that you can reach everything you need without standing on tiptoes or bending down
Place food and supplies in a cupboard between your waist and shoulder level
Make or purchase single-serving meals that can be frozen and reheated
Preparing Sleep Arrangements
Sleep is also critical for surgery recovery, and you may need to make some changes to ensure you're getting quality sleep after your surgery.
If your bedroom is upstairs, you might need to change your sleeping arrangements temporarily. 
Stairs can be difficult to navigate after knee surgery. To avoid having to trek up the stairs, try transforming the main floor space into a temporary bedroom.
Getting Dressed After Surgery
It's important to take great care when you're getting dressed after your knee surgery. 
Here are some tips for putting on your clothes:
Put pants, socks, etc. on the leg that had surgery first
Don't try to put on pants while standing. You'll want to make sure you're sitting on a chair or the edge of your bed to increase stability
Use reachers and long-handled shoe horns, etc., to help you get dressed without bending too much
At Altenburg, We're Here to Help You on Your Road To Recovery
Surgery, hospitalization, and aftercare can be frightening and overwhelming for many people. Having concerns, anxieties, and worries is very normal and common. At Altenburg, our experienced providers are here to help alleviate all your surgery-related anxieties and make your surgery and recovery as painless as possible.
Dr. Altenburg is a board-certified surgeon who specializes in knee and hip replacements. 
If you're suffering from knee pain and would like to talk with an orthopedic professional, contact our office today for a consultation.